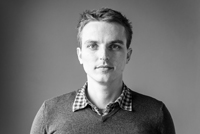 My name is Vincent Spruyt. I'm a machine learning and pattern recognition aficionado, data scientist, currently working as Chief Data Scientist at Sentiance. Working mostly on semi-supervised, self-adaptive and context-sensitive learning, big data and small data in high dimensional settings.
About 4 years go I finished my PhD research at the University of Ghent (Belgium), where I was mainly working on computer vision and intelligent video processing (object detection and tracking, classification, segmentation, etc.).
During my research I noticed that the academic community for some reason feels the need to explain methods and algorithms in a way that makes the authors appear as smart as possible. To make things worse, if a researcher does not comply to this unwritten rule, his papers are unlikely to ever be accepted for publication. As a result, academic literature is hardly accessible to programmers without a strong mathematical background.
Obviously the maths are important, but for many of us they are just a means to an end, and not a goal in itself. On this blog, I will regularly post thoughts, opinions, analyses, derivations and discussions related to computer vision and machine learning. My goal is to make this information as accessible as possible by providing code snippets, examples and background knowledge.
Enjoy!
If you're new to this blog, don't forget to subscribe, or follow me on twitter!